Matthew Lesko
NY Times Best Selling Author. The World's Brightest, Best, & Biggest expert on Uncle Sam's Closet of Opportunity in the USA.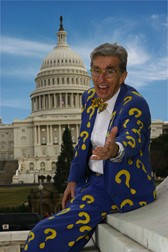 NY Times Best Selling Author, Matthew Lesko is one of America's Sweethearts. Why? Because if you ever see him on the street in NYC, DC, or a Trade Show, and you stop and ask, "I've got this dream! Can you help?" His answer will be "YES"! Be ready because he LOVES to help people DO what they want to do in life, and most times, that's taking an idea and starting a business. Good for you, good for the economy.   Want to grow a business, find expert free health care for your family, travel and serve, quit your boring job, go back to school, find money for college, Crowdfund, talk BigData, and more? Ask Lesko.  And, if you disagree with his philosophy about using government funds to help you grow, he'll even give you YOUR congressman to write so you can create your own change. It's been a huge pleasure working with Matthew Lesko because he IS the Real Deal when it comes to helping people help others,  GROW our economy starting small businesses. Or, just finding real answers to real problems especially with health care. Plus, he's got one of the coolest families I've ever met. His wife Wendy is a WordWideWoman Activist for girl's education, making our globe a better place to live. His two sons, Max works with The President of The United States, and Morgan, a Professional Gamechanger, creates & develops really cool software & platforms. He makes "grassroots" change for bettering our cities & communities everywhere. Genius of a Family, inspired by question marks. You'll be a better person if you get the chance to meet any of them.
Video Gallery
HiRise Promotions Delivers Marketing & PR
Behind The Scenes Award Winning Documentary: Matthew Lesko / Kim McCoy by Sofian Khan
Lesko on Oprah, Leno, Joan Rivers
&

More: HiRise, Inc. Marketing, Samson PR Group Publicity
Matthew Lesko
&

Kim McCoy, Marketing Break, Los Angeles. Eat Chips.